Annette's Mini Pumpkin Cheesecakes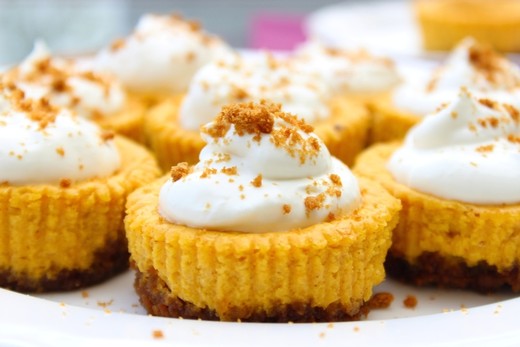 Measurements:
Imperial (US)
By: Annette McDonnell
Ingredients
1 cup butter
2 tsps vanilla
4 eggs
5 cups flour
4 tsps baking powder
1 tsp salt
3 packages cream cheese
3/4 cup sugar
1 tsp vanilla
pinch of cloves
pinch of nutmeg
3 eggs
Directions
Cream together brown sugar & butter, add vanilla & eggs. In separate bowl, mix together flower, baking powder & salt. Combine the butter mixture with dry ingredients. Form into dough and refrigerate for 4 hours.
Roll dough out into a thin sheet and cut into 2" diameter rounds. Spray a petite muffin pan with cooking spray and place dough rounds into bottom.
Preheat oven to 250° F.
For Filling: Mix all ingredients together and beat until a creamy consistency. Fill dough covered muffin tin with filling and bake for 15-20 minutes or until golden brown.