Apple Panna Cotta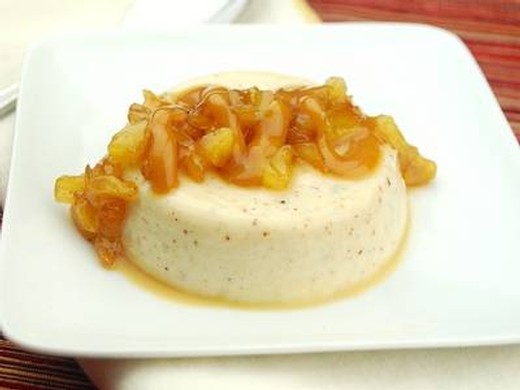 Measurements:
Imperial (US)
By: Chef Bruce Riezenman, Park Avenue Catering, Eat well!
Ingredients
1 3/4 tsps gelatin
2 tbsps cool water
1/2 cup milk
1 cup heavy cream
1/2 cup crème fraiche
1 1/2 vanilla beans, split & scraped
1/4 cup brandy
1/4 cup apple cider glaze
1/4 cup sugar, granulated
pinch salt
1/2 cup heavy cream, whipped (makes 1 cup)
2 apples, cored, peeled and cut into thin wedges
1 tbsp butter
1 tbsp granulated sugar
Directions
Sprinkle the gelatin over the water in a small bowl and allow to "bloom" for 5 minutes.
Meanwhile, combine the rest of the next eight ingredients in a sauce pan (including the scraped vanilla bean seeds and the pods), bring to a simmer & turn off immediately. Allow to sit for 5 minutes.
Pour into a bowl that has been placed over an ice bath. Bring the temperature down to 140 degrees, add the gelatin and stir to dissolve. Bring the temperature down even more until it is slightly cool to the touch. Whisk in the whipped cream. Pour into bowls and allow to chill and set for at least 3 hours.
Combine the apples, butter and sugar in a sauce pan and cook gently over medium heat until the apples have softened. Let cool to room temp.
To serve, spoon the apples and juices over the panna cotta and serve.