Brandy Snaps with Caramelized Apples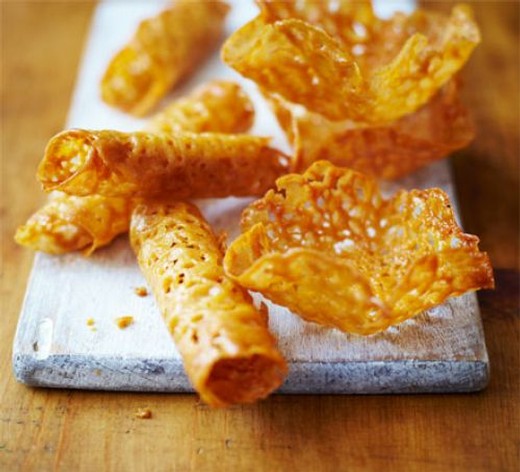 Measurements:
Imperial (US)
By: Chef Bruce Riezenman, Pair with the Paradise Ridge Winery's 2013 Ode to Joy, Late Harvest Sauvignon Blanc
Ingredients
1/2 cup butter
1/2 cup sugar
1/2 cup dark molasses
1/4 tsp ginger
1/2 tsp cinnamon
1/2 tsp grated orange rind
1 cup heavy whipping cream
2 tbsps brandy
2 tbsps granulated sugar
1/4 tsp pure vanilla extract
2 tbsps butter
2 tbsps sugar
1/2 tsp very fine lemon zest
2 Honeycrisp or other apple
Directions

Remove from heat and add
1 cup all-purpose sifted flower
Preheat oven to 300 degrees. Roll into 3 /4 inch balls.
Bake on an ungreased cookie sheet about 12 minutes until dark, golden brown. Remove from oven and allow to cool slightly. After a minute or so, remove cookies from pan with a spatula.
Roll cookies over a wooden spoon handle or metal cone. Store in a tightly covered tin. They will hold for several days.
Just before serving, fill each cone with the brandy and vanilla flavored whipped cream using a pasty bag with a star-shaped tip. Top with caramelized apples & a drizzle of the juices (below).
Brandied Whipped Cream
1 cup heavy whipping cream
2 tablespoons brandy
2 tablespoons granulated sugar
1 / 4 teaspoon pure vanilla extract
Combine all ingredients & whip until firm whipped cream. Do not overwhip, it must just stand up to peak when you pull the whisk or spoon from the whipped cream.
Caramelized Apples
2 tablespoons butter
2 tablespoons sugar
1/ 2 teaspoon very fine lemon zest
2 each Honeycrisp or other apple
In a medium skillet, melt the butter. Add the apples, sugar & lemon zest. Cook over medium high heat, stirring occasionally, until the apples are just tender & golden, about 5 minutes.