Creamy Green Garlic Soup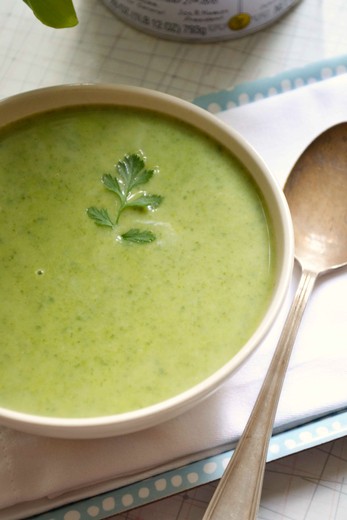 Measurements:
Imperial (US)
Green garlic is a fantastic seasonal product that starts to show up in the market in march. It is the essence of the coming of spring both in color and fresh flavor. Serve with our lovely Chardonnay.
Ingredients
18 cloves garlic
2 tbsps (1/4 stick) butter
2 1/4 cups sliced onions
1 1/2 tsps chopped fresh lemon thyme
2 big bunches of Green Garlic roughly chopped
3 1/2 cups chicken stock or canned low-salt chicken broth
1/4 cup Paradise Ridge Chardonnay
1/2 cup whipping cream
Directions
Preheat oven to 350°F. Place 18 garlic cloves in small glass baking dish. Add 2 tablespoons olive oil and sprinkle with salt and pepper; toss to coat. Cover baking dish tightly with foil and bake until garlic is golden brown and tender, about 45 minutes. Cool. Squeeze garlic between fingertips to release cloves. Transfer cloves to small bowl.
Melt butter in heavy large saucepan over medium-high heat. Add green garlic, onions and thyme and cook until onions are translucent, about 6 minutes. Add roasted garlic. Add chardonnay & chicken stock; and simmer until green garlic is very tender, about 20 minutes. Working in batches, purée soup in blender until smooth. Return soup to saucepan; add cream and bring to simmer. Simmer until slightly thickened. Season with salt and pepper.
Serve with crusty sourdough bread and a golden chilled glass of Chardonnay. Don't worry about the cream in the soup, the wine cancels out all those calories!