Grilled Carmody & Niman Ranch Bacon Sandwich with Quince paste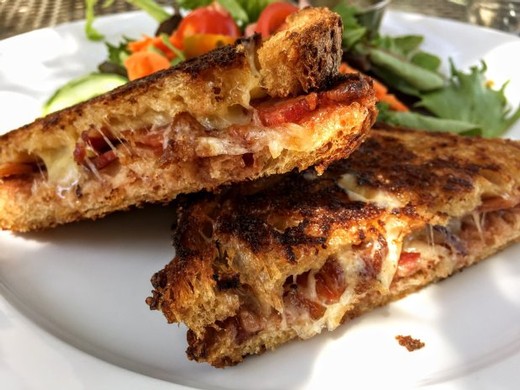 Measurements:
Imperial (US)
Ingredients
8 slices Niman Ranch Bacon
1/2 lb Bellwether Farms Carmody, sliced thin
1 stick Butter, soft
8 slices Rye Bread
1/2 lb Quince Paste, removed from the container and sliced
Directions
Pre-heat your oven to 350 degrees. Separate the bacon slices and place on a baking sheet. Place in the oven and cook until golden brown and crisp. Remove from the oven, place the bacon strips on paper towels to absorb the excess bacon fat. Chop the bacon into medium sized pieces.
Preheat a flat bottomed pan for making the sandwiches. This can be an electric griddle, a cast iron skillet or any other type of large flat non-stick surface. Pre-heat to medium heat.
Lightly butter both sides of all the bread slices. Place 8 slices on the griddle, and cook until light golden brown (3-5 minutes). Remove 4 slices from the griddle, and turn the other 4 over to start cooking the 2nd side.
While the 2nd side is cooking, place slices of the Carmody on the toasted side of each of the 4 remaining pieces. Use all the cheese. Place the quince paste on top of the cheese on each sandwich. Sprinkle the 4 with bacon, and place the "top" on each sandwich (toasted side down).
Turn each sandwich over and cook until the untoasted side is a light golden brown. Turn the sandwiches over and continue to cook for 3 – 5 minutes, flip again. Do this 3 or 4 times until the center of the sandwich is hot & melted and the outside is crisp and toasty. Remove, cut and serve hot!