Harvest Vegetable Frittata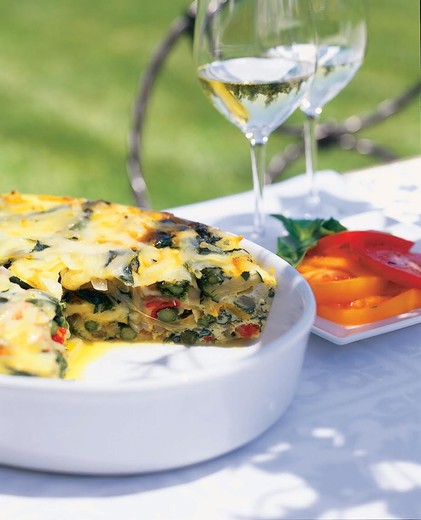 Measurements:
Imperial (US)
By: Chef Bruce Riezenman, Park Avenue Catering
Ingredients
3 garlic cloves, peeled and minced
1/2 cup plus 1 tablespoon, diced onion
1/2 green pepper, seed removed and diced
1/2 red bell pepper, seeds removed and diced
1/2 lb mushrooms, chopped
1/2 lb butternut squash, diced
3 tbsps olive oil
8 eggs, beaten
1/2 cup heavy cream
1/4 cup Paradise Ridge Chardonnay
to taste, hot pepper sauce
to taste, salt and ground black pepper
2 tbsps fresh herbs, oregano, basil, thyme
1 cup soft bread cut into small cubes
1 cup cream cheese
1 cup white cheddar, grated
Directions
Sauté the garlic and vegetables in the olive oil until softened. Beat together the eggs, cream, cream cheese, wine, hot pepper sauce and seasoning and then blend in the cubed bread and cream cheese. Stir in sautéed vegetables. Season with salt and pepper as needed.
Preheat the oven to 350 F. Pour the egg mixture into a baking dish and top with the Cheddar cheese. Bake in the oven for about 25-35 minutes or until set.