Polenta with Lima Beans, Corna and Delicato Squash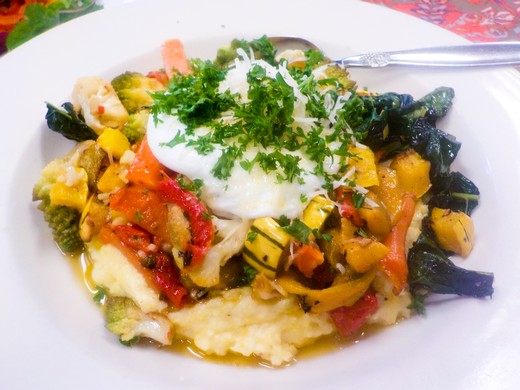 Measurements:
Imperial (US)
By: Executive Chef Bruce Riezenman
Ingredients
3 cups water
1/2 cup butter
1 cup whole milk
3/4 cup fresh corn kernels, roasted
1 tbsp olive oil
1/2 tsp salt
1/2 tsp white pepper, freshly ground
3/4 cup Lima beans, fresh or good quality canned (drained and rinsed) or frozen
3/4 cup delicato Squash, cut in half, seeds removed, diced near the same size as corn
1 cup high quality coarse grain polenta
1 cup Parmesan, shaved
Directions
Place the water, milk and salt in a medium sauce pan and place over high flame. Cover and bring to a boil. Add the polenta, reduce to medium or medium-low heat, stirring often with a wooden spoon. Simmer for 15 minutes, stirring ot make sure it does not stick to the bottom.
Meanwhile, place butter, lima beans, corn kernels and squash in a medium sauté pan over medium-high heat. Cook covered for 5-8 minutes, until the squash is just softened.
After cooking the polenta for 10-15 minutes, add the butter/vegetable mixture and continue to stir and cook until the polenta is done. You will taste that the small grains of polenta have softened. Remove from the heat, add the parmesan cheese and stir. Add salt and white pepper until you like the flavor.
You can serve immediately as a soft polenta (if you want it softer, or hold it for a little while, add an additional cup of milk at the start of the recipe. To serve it firm, pour into a buttered baking dish and allow to cool. You can then cut it into any shape and re-heat it by placing it under a broiler or by baking in a hot (450 degrees) oven for 15 minutes.
Eat Well!