Roasted Heirloom Turkey with Wild Mushrooms & Zinfandel Gravy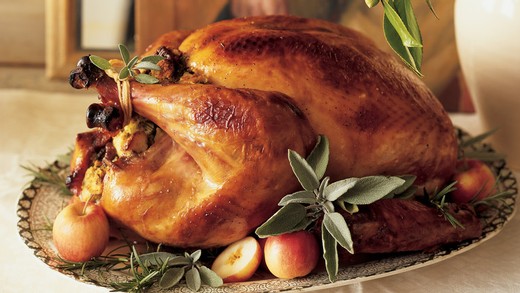 Measurements:
Imperial (US)
Ingredients
1 tbsp Black Pepper, whole
1 tbsp Thyme, fresh
1/2 bottle Zinfandel
to taste, Salt & Pepper
3 inches By Leaves
1 1/2 lbs chicken backs and necks
1 tbsp canola oil
1 1/2 lbs turkey neck
1 Spanish onion, medium, chopped
3 carrots medium, peeled and chopped
3 quarts water
1 tbsp Rosemary, fresh
Giblets from your turkey
1/2 cup flour
to taste, salt & pepper
Directions
Zinfandel Gravy
Makes 4–6 cups
I prefer to make the base for my turkey gravy in advance. I start by making a roasted turkey stock using chicken bones I have saved in my freezer plus turkey necks I have purchased from the butcher. One important part is to make sure you roast the bones necks well to give some color to the sauce. I make the base of the sauce in advance (up to 2 days) without thickening it. I save this for the traditional method of adding flour to the roasting pan, then adding the stock to thicken it. The other important part of this recipe, is to make sure you reduce the zinfandel down to 1/4 or less of it's original volume. This concentrates the flavor and the color.
Method
Pre-heat your oven to 450 degrees. Combine the chicken, turkey, oil, onion, carrots and celery. Place in a large roasting pan and roast in the oven for at least 45 minutes to 1 hour, turning occasionally so the bones and the vegetables brown well and evenly. Once well browned, remove the roasting pan form the oven and place on the stove top over medium heat. Add the zinfandel and simmer until it is reduced to no more than 1/2 cup in the bottom of the roasting pan. Stir with a wooden spoon while you are reducing it. Add half the water and brig to a simmer. Pour everything from the roasting pan into a sauce pan, add the rosemary, thyme, peppercorns and the rest of the water and simmer for 3 hours allowing the stock to reduce until you have a flavorful broth (you should always have enough liquid to cover the bones and vegetables. Strain the stock, allow to cool and either refrigerate or freeze until needed. You should have no more than 2 quarts of stock.
While you are cooking your turkey, you can finish the gravy. Clean and roast the giblets that came with the turkey until it is cooked and brown. Remove from the roasting pan, slice and add to the turkey-zinfandel stock. Simmer for at least 30 minutes.
Once the turkey is done, remove the turkey and pour off most of the fat from the roasting pan. Leave about 1 – 2 tablespoons of the turkey fat in the pan. Add the flour, stir to mix and place on the stove top over a medium flame and cook the flour until it is becomes slightly browned. Add a small amount of stock at a time, stirring until it is smooth, then adding more until you have added enough to create a fairly thick, smooth sauce. Using a rubber spatula, place this in a sauce pan, and simmer, adding more and more stock until you have achieved the correct consistency for your Zinfandel Gravy. Strain one last time, and simmer for at least 20-30 minutes to remove the starchy taste of the flour. Once the turkey has rested and is carved, your gravy will be ready and wonderful!


Exotic Mushroom Roast with Madeira & Thyme
Appetizer 3 each
2 teaspoons Shallots finely chopped
2 lbs Wild Mushrooms of your choice
1 Tablespoon Olive Oil, Virgin
2 teaspoons Thyme fresh
1/2 cup Madeira
2 teaspoons Soy Sauce
Method
Use mushrooms that will stay fairly firm when cooking. Toss mushrooms in olive oil, season with salt and pepper. Place carefully on a roasting pan or baking sheet. Roast in a preheated oven at 450 degrees for 10 minutes until mushrooms are just tender.
While mushrooms are roasting, make the sauce: Put Madeira, soy, shallots and thyme in a pan reduce to 1/4, season with salt and pepper. Toss the roasted mushrooms with the reduction.
Pair with the Paradise Ridge Winery's 2011 Cabernet Franc, Rockpile