Slow-Roasted Pork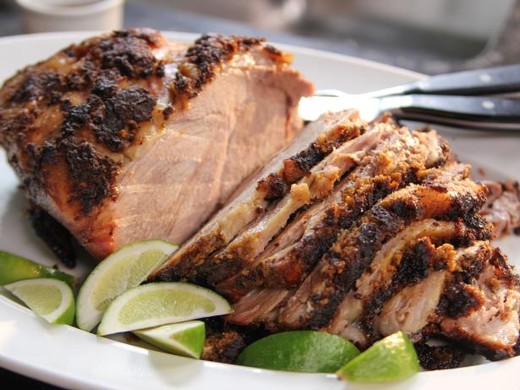 Measurements:
Imperial (US)
Pair with the Paradise Ridge Winery's 2012 Estate Pinot Noir, Pommard Clone By: Chef Bruce Riezenman
Ingredients
4-5 lb pork shoulder, boneless
1 red bell peppers, fire roasted on the grill, chopped
1/2 yellow onion, chopped
1 carrot, peeled and sliced thinly
1 cup Pinot Noir
6 garlic cloves, peeled and sliced
2 sprigs rosemary, fresh
1/4 tsp cumin
1/4 cup olive oil
to taste, salt and pepper
Directions
Ask your butcher to remove the bones from the pork shoulder and to tie (or "net") it as a roast.
Combine all the ingredients and marinate the pork "open" overnight (if you are able to remove the net) by placing it in a baking dish. Turn it a few times during the day.
The next day, place it back in the net, or leave it "as is" if you've left it tied.
Pre-heat your oven to 250 degrees. Place the pork with the marinade in a baking dish. Cover the pork and roast in oven for 2 hours. Remove the cover and turn the temperature to 300 degrees and continue to cook until very tender (1 hour). The liquid should be almost evaporated by then. If needed, add a small amount of water so that it is not completely dry at the base. The pork should turn golden brown.
Remove the pork from the oven, allow to cool and "pull" the meat apart into chunks. Place the meat in a mixing bowl. Strain the pan drippings, pressing the veggies through the strainer as much as possible. Remove the excess fat from the drippings, pour over the meat and toss the two together. Cover and chill for use any time in the next few days.
Serve over polenta warm pulled pork on top. Drizzle with a touch of the pan juices.