Vietnamese-Style Shrimp & Vegetable Rolls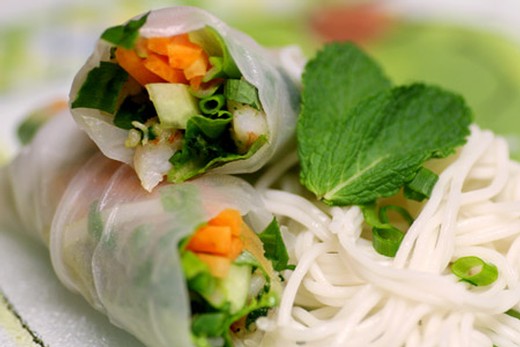 Measurements:
Imperial (US)
By: Chef Bruce Riezenman
Ingredients
1 tbsp grape seed or other neutral oil
1 inch piece ginger, peeled and chopped fine
1 carrot, medium, peeled, cut into julienne (thin) strips
1 zucchini, green, cut into julienne (thin) strips
1 yellow zucchini, cut into julienne (thin) strips
1/3 head green cabbage, sliced thinly
1/2 bunch green onion, chopped
1/3 bunch cilantro, stemmed & chopped
Sauté the above quickly (stir-fry) but leave it still crisp and fresh tasting. Add the green onion and cilantro while warm but after it has cooked.
1/4 cup garlic chili sauce
1 tbsp sesame seeds black
1/4 cup seasoned rice wine vinegar
1 cup chopped, cooked wild gulf shrimp
mix with stir-fried veggies
1 bag enoki mushrooms
1 basket daikon sprouts
1 red bell peppers, cut into julienne (thin) strips
Directions
Using warm water soak the wrappers until soft and towel dry. Using a towel to roll upon, fold the right and left edges inward 1 inch. Place a small amount of the enoki mushrooms, peppers and the diakon sprouts stem side inward so the tips are showing outside the edges of the rice paper, then place a small amount of the shrimp and vegetable mix to fill it nicely (about 1/2 cup of filling). Roll the wrapper tightly around the mixture taking care not to tear it. Place in a covered pan with plastic under as well as over taking care not to let the rolls press too tightly against each other.
Cut each roll into 5 or 6 pieces.
Pair with the Paradise Ridge Winery's 2013 Delight, Aromatic White Wine